CBD Anti-Ageing Cream - Retinol
Sale price
£44.00
Regular price
Unit price
per
45ml pot contains 90mg CBD
Anti-ageing face cream with CBD and retinol
Makes skin appear visibly smoother and firmer
UK delivery: 3-5 Working Days
Details

The "Brave" Anti-Aging Face Cream regenerates and soothes sensitive facial skin while reducing individual wrinkle depth by 31% in just 4 weeks. The synergetic blend of CBD and vegan retinol promotes collagen production in the deeper skin layers, helping the skin appear noticeably plumper and fresher after just a few applications.

The Brave Anti-Aging Cream is absorbed quickly into the skin, protecting it from harmful environmental aggressors and combatting visible signs of premature aging and pigment spots caused by sun exposure.

The Anti-Aging Cream contains 90mg of CBD in the form of CBD crystals, meaning the product is 100% THC free. This product is suitable for all skin types.

The entire Nordic Cosmetics line is manufactured in the EU in accordance with the highest quality standards. The products are vegan and are not tested on animals. All Nordic Cosmetics products have a pleasant, natural fragrance that invigorates the senses and intensifies the care experience.
Ingredients

The Brave Cream is made exclusively from vegan ingredients and contains over 94% natural ingredients.

Aqua, Ethylhexyl Stearate, Cetearyl Alcohol, Glyceryl Stearate SE, Glycerin, Sodium Ascorbyl Phosphate, Sorbitan Stearate, Butyrospermum Parkii (Shea) Butter, Palmitic Acid, Stearic Acid, Caprylyl Glycol, Triethyl Citrate, C12-20 Alkyl Glucoside, C14-22 Alcohols, Parfum, Xanthan Gum, Citric Acid, Cannabidiol, Retinyl Palmitate, Benzoic Acid, Tocopherol, Butylene Glycol, Helianthus Annuus (Sunflower) Seed Oil, Sodium Hyaluronate, Ginkgo Biloba Leaf Extract, Phenoxyethanol, Ethylhexylglycerin.
Suggested use

Apply in the morning or evening on a clean face, neck and décolletage and gently massage into the skin. If applied in the morning, follow with SPF 30+. Avoid direct eye contact.

If this is the first time you are using a product with Retinol, start off by applying the Brave Anti-Aging Cream every other night and build up to using it every day.
Storage

This product expires 12 months after opening. Keep this product dry. Store at a temperature of 8-25 degrees. Direct sunlight and heat should be avoided. Keep out of reach of children.

The Anti-Ageing Cream has a shelf life of 12 months after opening.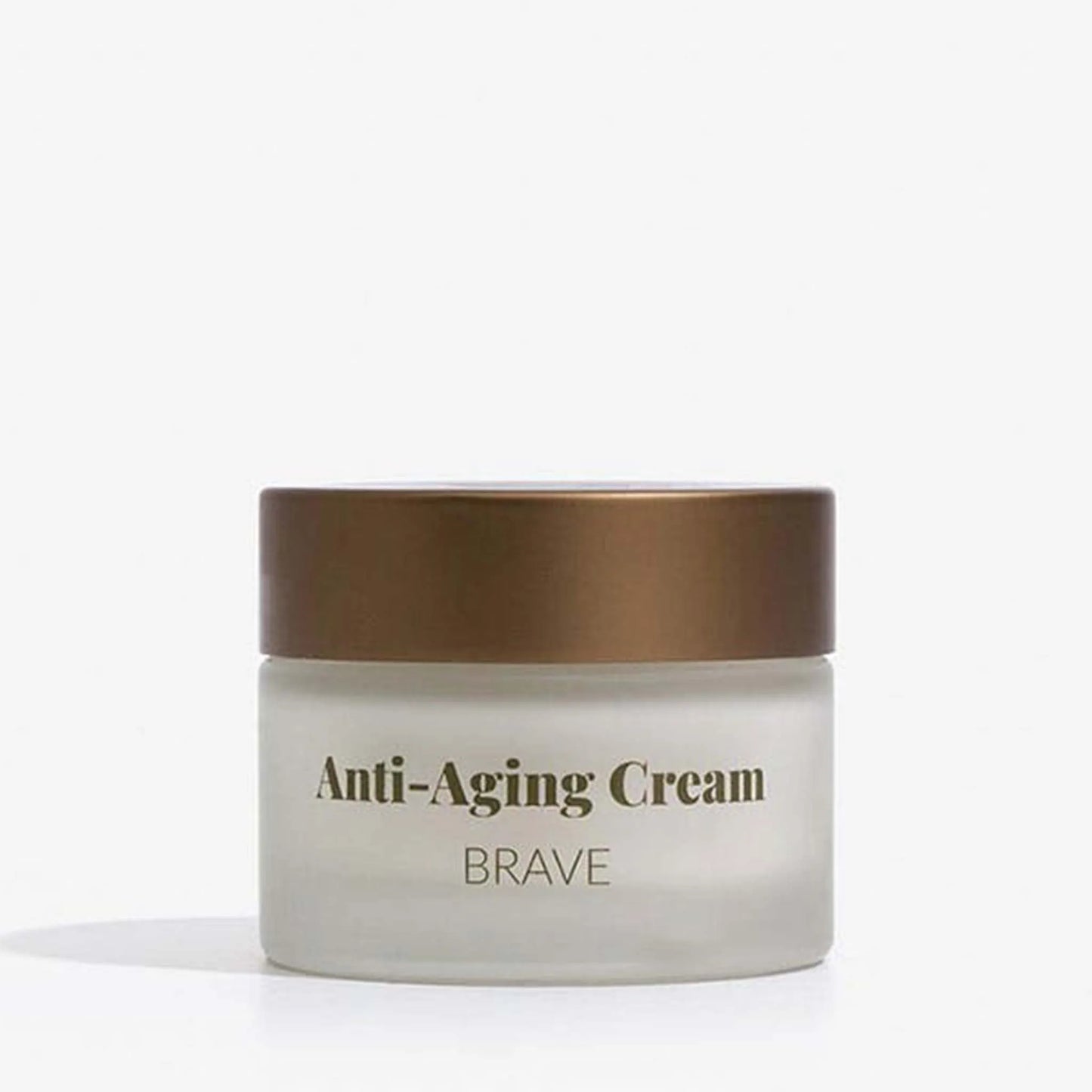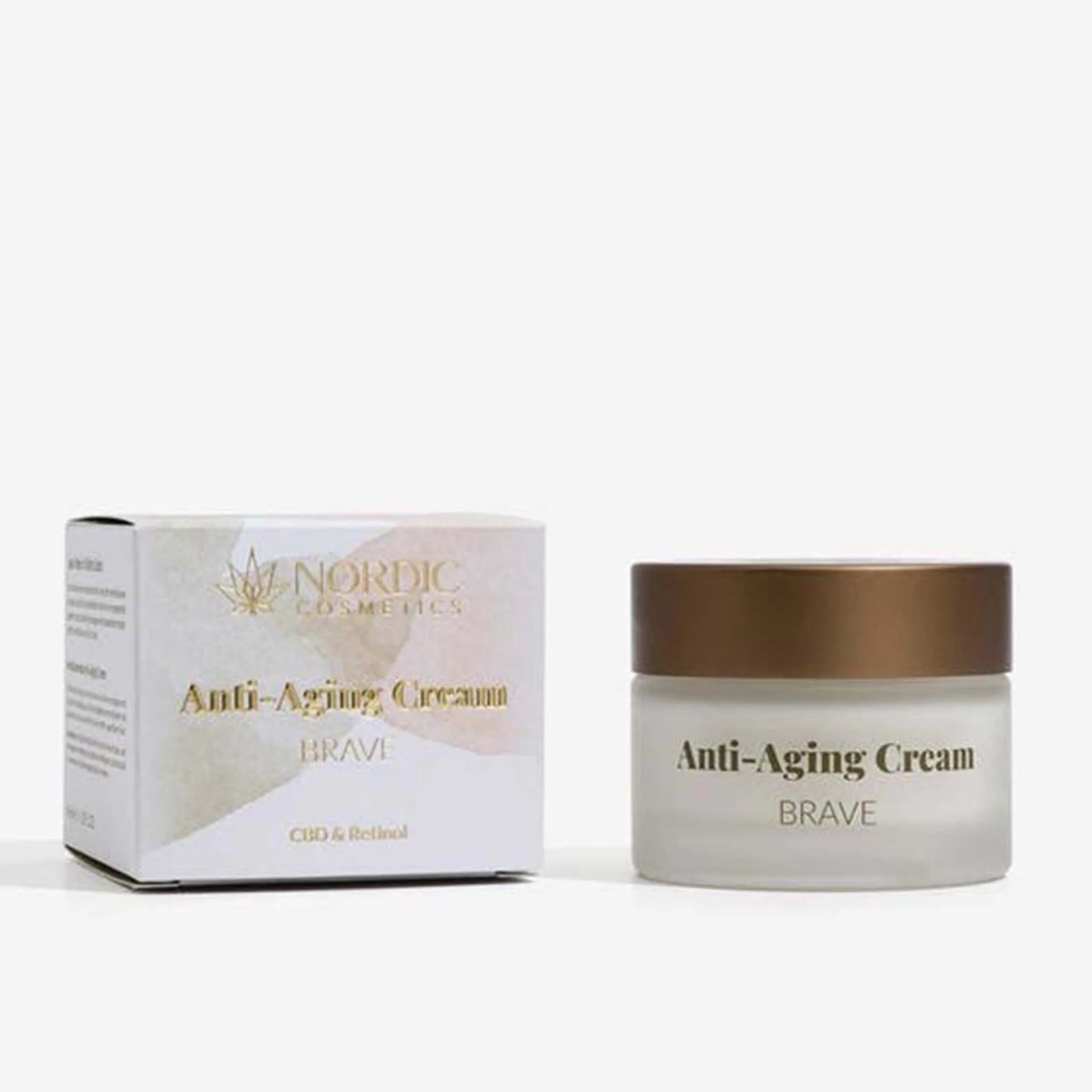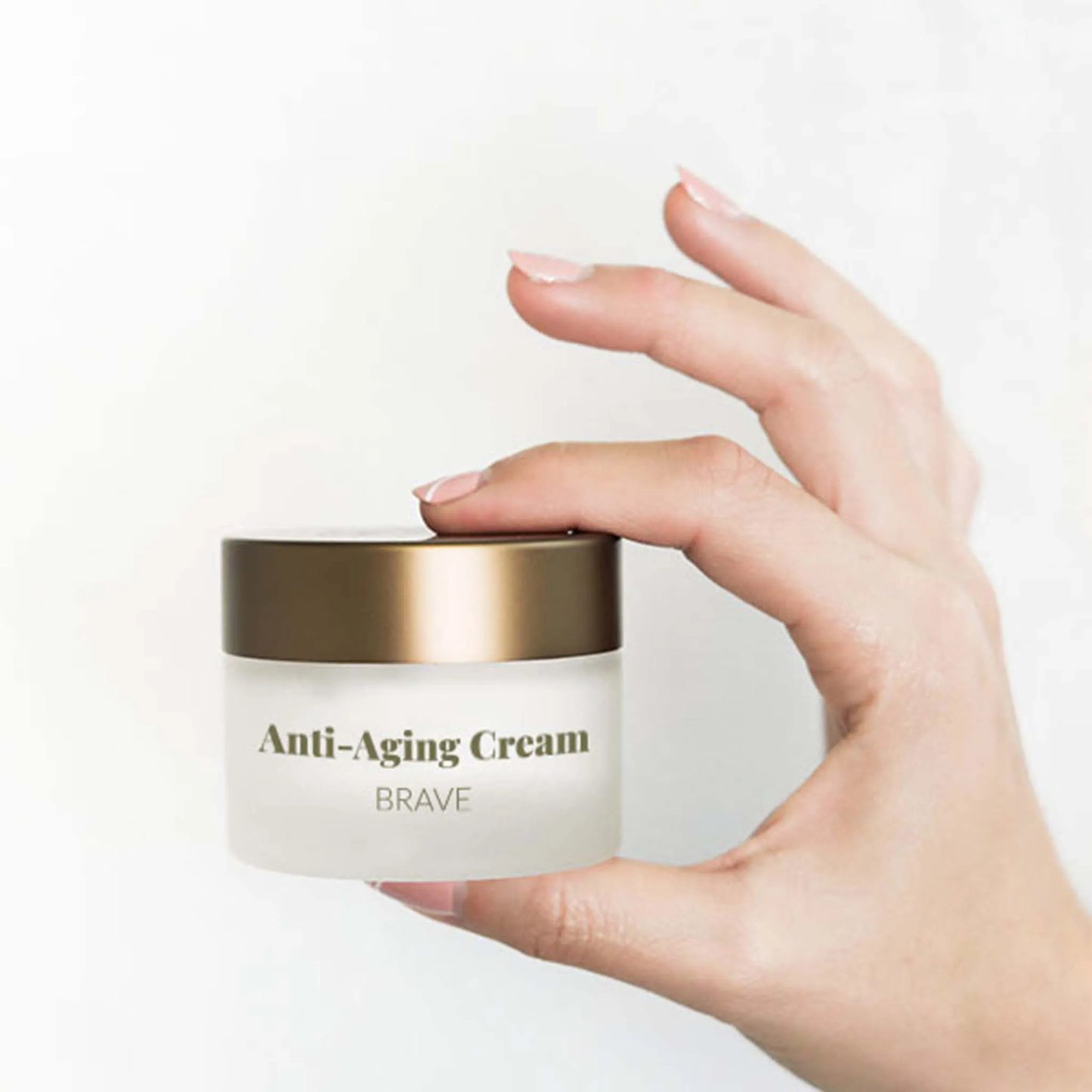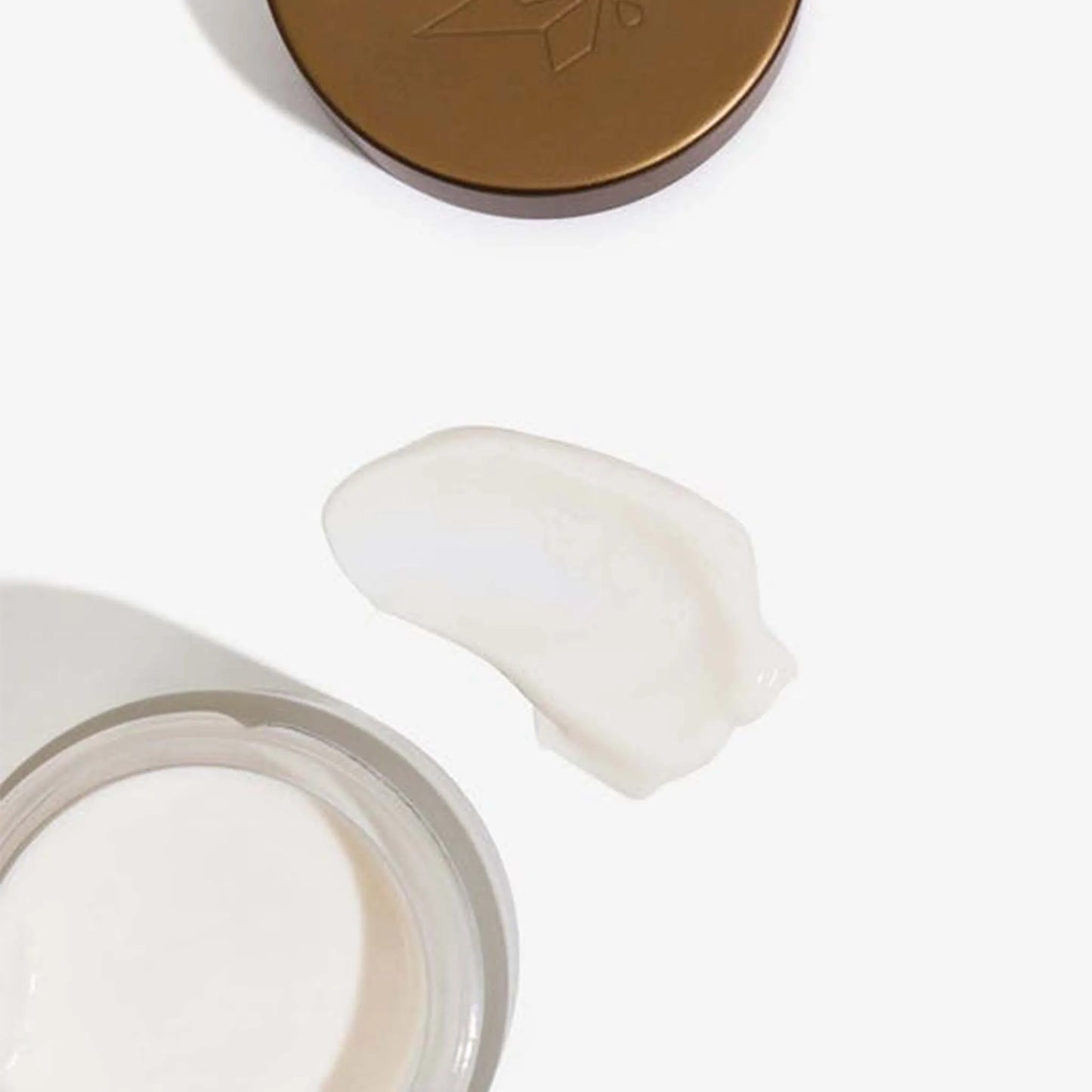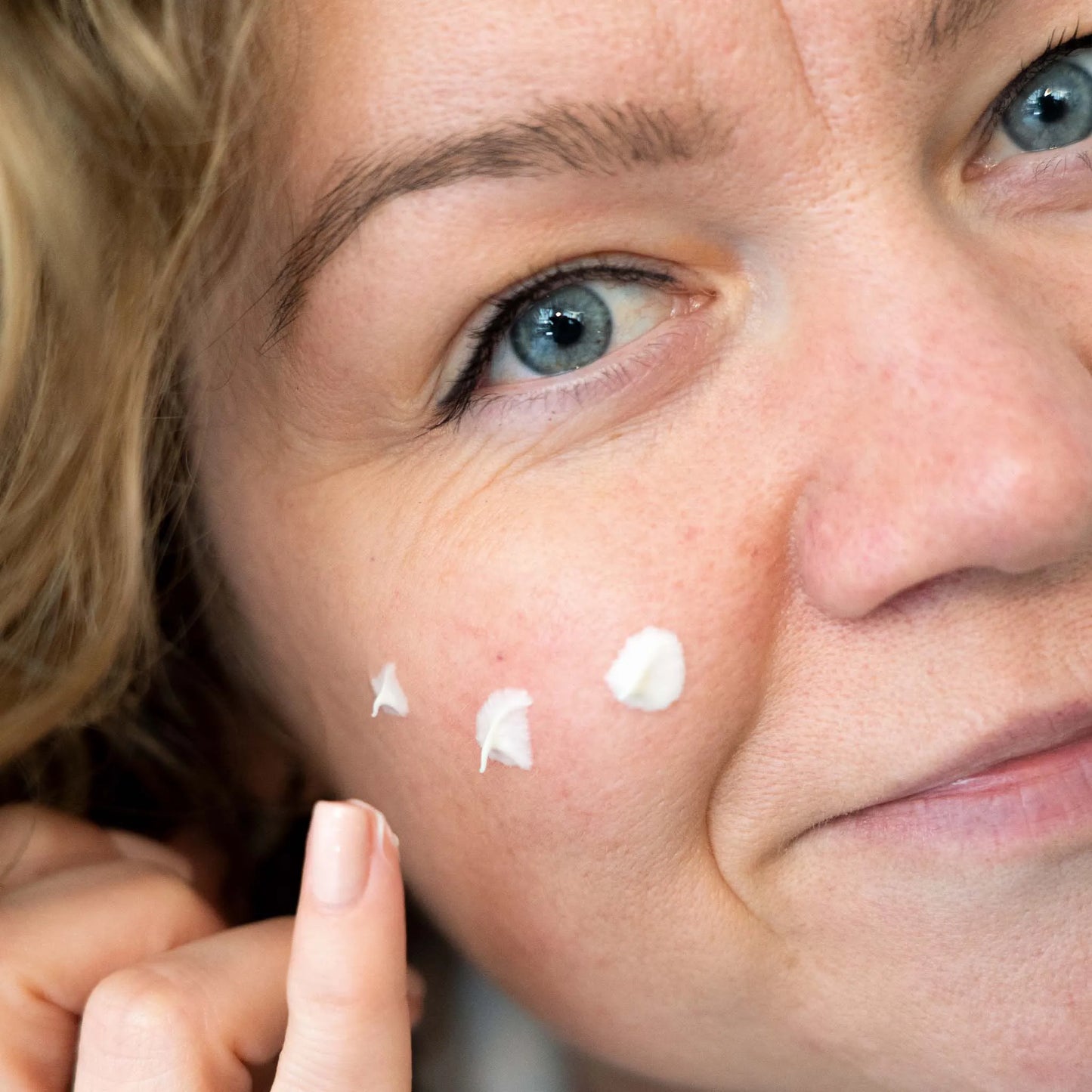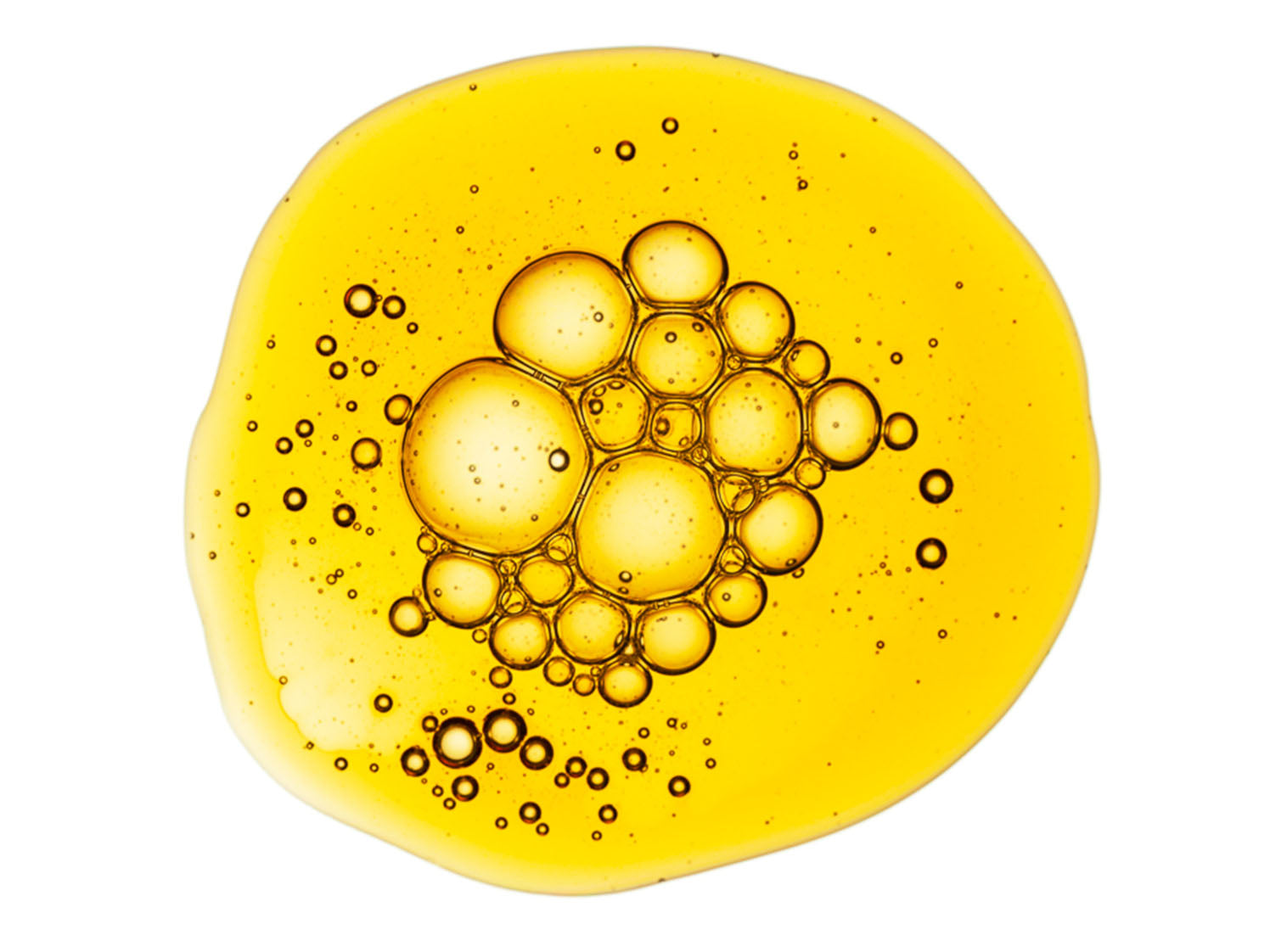 Slow-ageing formula
To minimise the onset of age spots and avoid invasive environmental influences that lead to premature skin ageing, we combined CBD & Vegan Retinol to create our BRAVE Anti-Ageing Cream and give your skin a graceful dance through time.
CBD

CBD, or cannabidiol, has balancing, soothing and regenerating properties which make it a great addition to daily skincare products.

Retinol

Retinol accelerates cell turnover, promoting the growth of smoother, healthier skin. We only use plant-based, vegan retinol.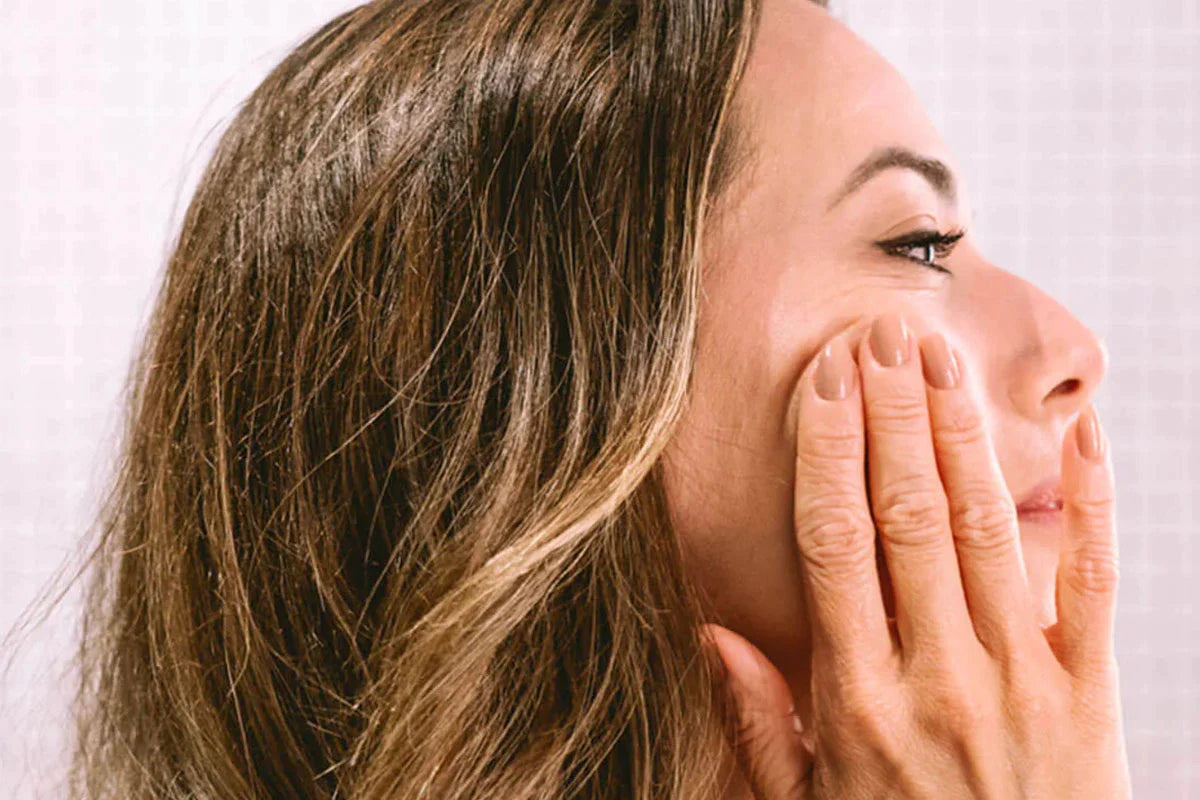 How to apply our CBD Anti-Ageing Cream
Cleanse your skin thoroughly.
Apply on face, neck and déolletage and massage in.
If used in the morning, apply SPF afterwards.
Let the skin absorb the product before applying other creams.
For best results, combine with Flawless Face Serum in the mornings and evenings.